Gem's Cakes
Halloween cakes: don't let appearances fool you
Updated: May 9, 2018
Seeing as we're approaching the end of October, I've started taking orders for Halloween cakes. I love the idea of making some really gory cakes and cupcakes, but very few people ask for them. They opt for a rather cheery looking pumpkin instead.
So, I got thinking about how much the way we see food affects the taste. I know that smell does as it's actually linked to taste. But can our eyes really change the way we taste food?
I suppose, my mouth does always water at those M&S adverts (although, I think that's partly to do with the seductive voice), but if we're to believe the research, I have every right to.
An American neuroscientist found that some French researchers carried out an experiment, where they died white wine, red. And guess what? The wine connoisseurs described the wine with adjectives usually reserved for the finest Claret.
With all that in mind, I did a bit of research of my own and found some ultra freaky designs – the perfect choice for your Halloween cakes. Do you think you could eat any of these?
5. Gory arm
I'm not sure which is worse, the sawn-off arm or the rats. Could you imagine digging into this cake? You'd be no better than the rats.
4. Poo
Who said Halloween had to be all about blood and gore? This is definitely one for a 'trick'! Just the look of it would remind you of the smell, let alone eating it.
3. Brain
Mmmm, delicious. I've always wanted to tuck into a plate of brain for my dinner. Can you imagine? "Excuse me love, you've got a bit of grey matter stuck in between your teeth".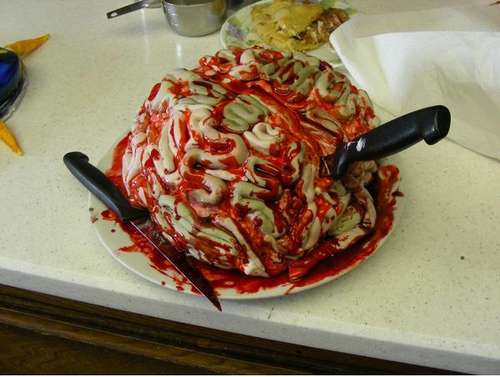 2. Baby
Again, not a gory one, but still freaky! For a Halloween party its one step too far and you hardly wanting to be cutting into its head during the baby shower.
 1. Live autopsy
Remember when they put that live autopsy on the telly? That's all I can picture with this cake. I think even I would be put off by those rotting organs.
If you're organising a party and are looking for Halloween cakes, contact Gem's Cakes today.